The Marriage Whisperer Challenge Cards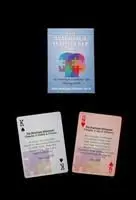 As Dr. Patt was writing The Marriage Whisperer®, she thought about all reluctant readers out there who might be disinterested in reading a marriage self-help book AND how many of them were married to spouses who were reading The Marriage Whisperer and working to get their partners engaged in marital improvement. She came up with The Marriage Whisperer Challenge as a tool to help couples start the relationship conversation in a non-challenging and playful way.
Dr. Patt designed and adapted a standard deck of playing cards into a valuable resource based on the book. Called The Marriage Whisperer Challenge, each card face has a unique relationship excerpted from the book.
Instructions are included for how to start the relationship conversation through playing a simple "game" with the cards.
Great for couples, groups. Individuals, and as a gift, the cards are professionally produced and are sturdy, bright ,and attractive The Marriage Whisperer Challenge is a customized deck of standard playing cards with one of 52 unique relationship tips adapted from the book on each card face. When couples use these resource cards to strengthen their relationships, they are literally "playing with a full deck in their marriage." (Insert the emoticon of your choice here, please.)
Learn how Dr. Patt and her husband did their "marriage check-up" using the cards.
Message from Dr. Patt….
During a recent trip to celebrate our anniversary, my spouse and I completed another "marriage check-up" with The Marriage Whisperer Challenge ® cards. While playing Rummy, one of our favorite card games, we agreed to pick a topic from a card from our hands after each deal and BEFORE playing each round. For example, I chose the 2 of hearts from my hand.
link to blog article
These inexpensive cards represent value as a playful marriage self-help tool. Instructions for a suggested game are enclosed, but Dr. Patt encourages you to be creative and make up your own rules. A game with the Marriage Whisperer Challenge cards is suitable for 1 couple, 2 players or more couples/ players. A group of couples or a Marriage Encounter group can get together for a unique "game night" and be energized with how the lively conversations and discussions fly concerning 52 different marriage/relationship topics.(link to buy cards.)
Read more