The Marriage Whisperer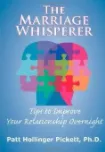 Coming Soon! 2021: 2nd Edition re-titled--- Making Love Last…Even Longer----Sign-up for FREE newsletter. WiseAce360 for updates on book availability/Pre-Sales and get tips and inspirations to fire up your day and goals.

The multi-award winning book, The Marriage Whisperer: Tips to Improve Your Relationship Overnight. is an easy-to-read, no jargon resource loaded with practical self-help tips and humor. Written in conversational style by Dr. Patt Pickett, this book is based on her professional academic training and 30 + years of experience as a Licensed Marriage and Family Therapist. However, Dr. Patt found her inspiration to write from over 10, 000 conversations with couples determined to create happiness and their best relationships.
The Marriage Whisperer includes focus on emotional intelligence. Dr. Patt explains how to use emotional awareness and expressiveness in relationships to keep your intimate connection going strong. This dynamite information is delivered in 70 compositely true stories about cleverly named couples including, "Cleo & Patrick", "Bertrand & Ernestine", "Bo & Derrick", and "Sandy & Quentin". This book is designed for reluctant readers and those with limited time. A detailed Table of Contents and index assists readers in choosing stories from five topics: Talking and Hearing, Habits and Chores, Arguments, Disagreements, & Differences, Analytical Versus Emotional Functioning, and Sex and Intimacy. Start anywhere. Find stories of interest. Choose one, many or read cover-to-cover. All get right to the point.
Story samples include:
#19 Dirty Drawers in the John: Elmer and Sue struggle with chores
#29 An Apology is Not Just an Apology: Jewell and Price argue about apologies
#38 Having the Last word: Nancy and Drew haggle over having the last word
#68 Preventing Emotional Cheating: Dolly and Harden disagree on emotional cheating
Dr. Patt offers an efficient approach to learning relationship tips with information-at-a-glance contained in numerous lists, charts, tables, and sidebar quotes throughout the book.
The Marriage Whisperer Challenge BUY LINK is a separate resource. Designed to get your relationship conversation started, this playful card collection is a standard deck of playing cards with a relationship tip from the book on each card face. Instructions for use and encouragement for how-to create your own game are included. Useful for couples, groups, or individuals.
Message from Dr. Patt…
Who wants their best marriage? When I first started asking that question at presentations, I was puzzled that nobody raised their hand. Then it hit me. NOBODY WANTS TO ADMIT IN PUBLIC THAT THEY DO NOT HAVE A PERFECT RELATIONSHIP. (Those couples who have assured me they have a perfect relationship , do not have the same definition as I do about what "PERFECT" really means.) Quoting myself here:
Any couple who has the desire CAN improve their relationship---overnight even.
After over three decades of working as a licensed mental health/wellness and emotional intelligence expert, I believe that we value our relationships and marriages. Although, most of us have room for improvement, not everyone chooses to work and nurture their relationships–proactively before trouble strikes. I see times have changed dramatically from 20 years ago.
Throughout my work as a therapist, I have steadily jotted notes to record what I learned in sessions with clients and in life in general. I identified metaphors, directness, everyday talk, and humor (often offbeat) which were successful ways to guide clients toward change options for their thinking and behavior to build better relationships. Clients accepted hard truths about themselves more readily when heard through my warm and friendly "delivery." Clients embraced and valued succinct bits of "life philosophy. "Eventually, I wove a portion of extensive notes into compositely true couple stories with insight and wisdom.
Through the years, clients have jokingly "invited" me home with them to be present to consult when "sticky situations" arose or alternately suggested that I be a "bug" in their ears to whisper steady words of wisdom during marital conflicts. Others have simply asked, "Why don't you write a book?" Of those three "options", I decided I could expand the reach of my insight and support more broadly with a book… The Marriage Whisperer: Tips to Improve Your Relationship Overnight is "the book."
E-book is available now.
Audio book will be available in early 2021. Pre-orders are available. LINK
Major Awards/Recognitions


1. Gold Medal IPPY "Living Now" Awards- http://www.independentpublisher.com/article.php?page=1694
2.Highly Recommended Book of the Month by the Midwest Review http://midwestbookreview.com/sbw/sep_13.htm#marriage
3. Highly Recommended for library Self-Help collections by the Midwest Review http://midwestbookreview.com/sbw/sep_13.htm#marriage
Recommendation by the US Review of Books (USB)
http://www.theusreview.com/reviews/Marriage-Pickett.html#.VNWGVebF_-Y
file:///C:/Users/patt/Desktop/Reviews-Links/The%20US%20Review%20of%20Books.htm
IBPA Benjamin Franklin http://ibpabenjaminfranklinawards.com
The Eric Hoffer Awards http://www.theusreview.com/USRhoffer.html#home
Independent Reviews
WHAT EXPERTS SAY
Read More…
Internationally Known "Celebrity" in Marriage and Family Therapy
"I was impressed by the range and depth of the material."
(Harry J. Aponte, MSW, LCSW, LMFT, & Clinical Ass. Professor at Drexel U.)
Pastor and Therapist
"As a pastor and marriage and family therapist, I'm always on the hunt for resources to help couples. Dr. Pickett's book, The Marriage Whisperer, is that resource. … A fabulous resource!"
(Reverend Bryan R. Salminen, Ph.D.) [email protected]
Therapist and Professor
"For couples in search of real-world ways to improve their relationships, there is no need to look beyond this book. Dr. Patt Pickett has hit the mark with a successful combination of well-articulated concepts and how-to's. Delivered with stories that resonate with inspiration, this book is defined by its familiarity and accessibility. While close to home and practical solutions can be found on most any page, making it an important bedside companion, couples will want to read the entire book and not miss a thing!"
(Bob Bertolino, PhD, Associate Professor of Rehabilitation Counseling, Maryville University and Sr. Clinical Advisor at Youth in Need, INC ) https://www.bobbertolino.com/
Therapists
"This is a practical go-to book for couples seeking to enhance their relationship. … Let the marriage whisperer help you on your journey…"
(Judith A. Chaney, Ph.D., LMFT) http://judithchaneyphd.com/
"This book has practical and helpful information for couples looking to better their marriage. Real life scenarios help readers relate to the content and increase their trust in the author's knowledge and expertise. This book could be used as a compliment to couples therapy. It has a positive and hopeful tone that is beneficial to any couple seeking to be their best."
(Monica Lieser, MMFT,LMFT, LPC Owner of Sandhill Counseling & Consulting) https://www.sandhillcounseling.com/monicalieser.html
"Both my wife and I are counselors, and we disagree about this book. She thinks it is ideal for counselors, since it presents many succinct couples' dilemmas in a fair and balanced way that is excellent for pointing out clearly the conflicts in values or behaviours that a couple may present during counselling. Pickett then provides a comment on the larger issues that the couple are facing. She does this without blaming or fitting people into pre-determined "good" or "bad" roles. My wife appreciates the breadth of information that is here, and ran across numerous examples of situations that she had not faced, and that gave her an opportunity to think, "How would I have approached this couple? I see it as an excellent self-help book. Pickett's descriptions of the issues she brings as examples are engaging -- by which I mean that even when I see myself and my ineffective or childish or selfish behaviours in the examples, I am not put off by judgmental presentations or languages that would deflect me from paying close attention to the advice. We look forward to many good discussions and arguments over this book. Highly recommended. "
(Library Thing Reviewer)

"This is the relationship book I recommend to all. I work at a day treatment program. I did not
have a book for couples: this is it. This will be the ONLY relationship book you need to have in your library or to recommend to clients. It is written so easy to understand and with humor. Very refreshing, great info. The author put tons of work into this book."
(Vicki L. McViel)
AMAZON
4.8 of 5 (13 reviews)
Sample reviews below and complete reviews available at
https://www.amazon.com/Marriage-Whisperer-Patt-Hollinger-Pickett-ebook/product-reviews/B00GZPFDUG?reviewerType=all_reviews
Read More…
"I really liked this book for various reasons, first for what it's not: It's not a typical "help your marriage" book, nor is it page after page of statistics or "do this/don't do that" jargon. It's full of marvelous, insightful suggestions on how to talk about and resolve every possible marital dilemma or crisis. I especially loved the part about what one partner says compared to what his/her mate actually hears! :) I highly recommend The Marriage Whisperer to both married and engaged couples."
- Writer Gal
"I've really enjoyed this book, in fact I'm still enjoying it. I don't know about everyone else, but much of this book really comes close to home."
- Thanks, Richard
"Terrific book from an author with great insights."
- Amazon Reader
"The Marriage Whisperer knows how to fix what ails a marriage or relationship. Dr. Patt has worked with countless couples over the years and this book draws on that wealth of experience. Each page is filled with down-to-earth suggestions that can improve a relationship while avoiding the typical self-help book "preachy" tone. Dr. Patt even weaves in a touch of subtle humor which makes reading The Marriage Whisperer a pleasure, not a chore. Highly recommended!"
- K9friend1
FROM LIBRARY THING
Review(s) written for Library Thing Early Reviewers
Samples below and available at http://www.librarything.com/work/13823751/reviews/99970113
Read More…
A practical and enjoyable book, definitely worth a read and worth sharing with your partner and friends.
…this book (is) full of realistic and useful concept presented in a pragmatic and well written fashion. (I felt) like I was talking to a good friend.
…the nuggets of advice may also apply to parental/child relationships…I especially found the chapters on communication and disagreements… easy to understand.
This book is practical and real… I would recommend this book to anyone in a long-term relationship, not simply for those in crisis.
An easy read. Excellent relationship topics.
The numerous examples and very quick discussions have already made this a great book for "quick pick up" reading… That's why I think it's great for self-help.
…the well-balanced descriptions can help couples develop non-judgmental ways of describing their own and another's behaviors in a way that is clear and helpful….
… we are finding it very helpful in enhancing our intimacy and communication… I also… am trained to do pre-marital counseling… and will be enthusiastically recommending this excellent book to those whom I counsel. Highly recommended!
I would recommend this book to anyone with a great marriage, as well as those struggling with marital strife.
… I plan on sharing it with my husband…I would love to give this book to any and all couples that I know.
This book is a must-read for anyone who is interested in bettering their relationship.
Read more